Synizens
How Syniti's Global Workforce Gives Back
In recognition of International Day of Charity, we've compiled a few examples of how our Synizens are giving back to their communities.
---
Representing more than a dozen countries, Syniti employees – known as Synizens – are unified in serving our customers, our teammates, and our communities. Together, we work to create the world's best data company – and we spend our off hours making the world a better place.
To customers, Syniti represents data they can trust to ignite growth and reduce risk. Cleaning up bad data, and preventing it from seeping back in, is how Syniti helps companies to economically thrive while providing the best service to their customers. We also help our ecosystem thrive by planting trees that represent success and growth through our Syniti Forest program.
Curating a Culture of Giving
Syniti is dedicated to curating a culture of giving back. Each year, our Synizens are given a bank of hours that they can use as volunteer time off (VTO). They use it to support a variety of causes, organizations, and communities around the globe that are meaningful to them.
In recognition of International Day of Charity on September 5, we've compiled a few examples of how our Synizens are giving back to their communities.
Loving the Future
Organization Supported: Life Without Barriers
How do you support this organization?
"I'm a foster mum and a respite caregiver for other foster families," says Bek Moldrich, APJ Resource Management Lead, Australia. "I have a 13-year-old LGBTQ+ indigenous person in my home full-time and two indigenous little people once a month."
Why is it important for you to give back?
"Is it giving back – or investing in our future? These humans will run the world soon! Giving them every opportunity to be loved and included is why I'm here! Plus, the hugs and the smiles are a HUGE bonus."
Offering Financial Peace
Organization Supported: Habitat for Humanity
How do you support this organization?
"I coordinate Financial Peace University classes for groups of individuals who are soon to receive homes through the Habitat program," says Nick Woolaver, Sr. Global Director Education Services in Norwalk, Ohio. "This course gives them practical tools and key knowledge to both run their personal budgets as well as build a strong financial future for them and their families."
Why is it important for you to give back?
"I believe that through giving we receive the most blessing. Watching people grow in knowledge and useful understanding is important to me, both within my role at Syniti and in my community."
Supporting Women & Children
Organization Supported: Domestic Violence Safe House
How do you support this organization?
"I belong to a small group of volunteers who serve every third Saturday at a local safe house for women and their children in previous unsafe domestic environments," says Amy Van Vleck, Global Internal & Executive Communications Manager from Dallas, Texas. "The home provides shelter, meals, early childhood education, counseling, and work-skills programs. A large thrift store (resale shop) financially supports the operations of the shelter. There are many opportunities to serve this worthy organization. Our group has sorted through mountains of clothing donations, tested small electronics, painted outdoor furniture, fences and gazebos, decorated for various holidays, and served meals to their limited staff."
Why is it important for you to give back?
"While we don't interact with the residents at the home, it feels good to know that our volunteer time helps to provide services that will allow them to be safe, stay safe, and integrate safely into their communities."
Riding for Multiple Sclerosis
Organization Supported: National Multiple Sclerosis Society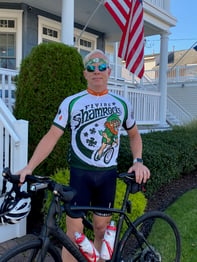 How do you support this organization?
"I joined a group called the Flying Shamrocks in 2016," says Rex Ahlstrom, Chief Strategy and Technology Officer in McLean, Virginia. "This is my seventh year to participate in the #BikeMS ride for the National Multiple Sclerosis Society. We ride ~80 miles from near Philadelphia to Ocean City, NJ … it's called the City to Shore Ride. The ride was moved to a virtual event during Covid, so the Flying Shamrocks organized their own ride and held it live. Over the past 10 years, our team has raised more than $100,00 for the charity."
Why is it important for you to give back?
"I have close friends that have the disease and I ride for them and others!"
Packing, Sorting, and Climbing for Relief Aid
Organization Supported: Khalsa Aid International
How do you support this organization:
Colleagues from the Leamington area in the UK have been supporting Khalsa Aid, a UK-based international non-profit humanitarian relief organization, since 2013. Money is raised through a variety of events, such as cake sales, and challenges like half marathons, 10Ks, skydiving, and climbing Mt. Snowdon, the tallest mountain in Wales.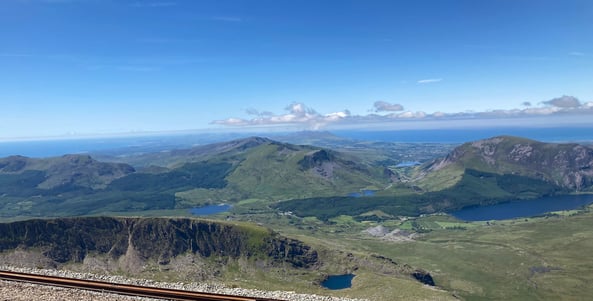 To date, the group has raised more than £15,000, says Christiane Worth, RM & PMO Assistant, Resource Data Management, Leamington, England.
Donations have supported these Khalsa Aid projects:
Installation of six fresh water bore holes for villages in rural areas of Malawi: each providing fresh water for approximately 3,000 people
Clothes, pens, pencils, books, and toys to children in Malawi
Meals for hospital patients in Malawi. Hospitals there expect family to provide meals for the patients and those without family don't eat.
Food distributed to nine orphanages in Leogane, Haiti. Leogane was the epicentre of the 2010 earthquake which killed and displaced hundreds of thousands of people. The government does not fund the orphanages, so they solely rely on charitable donations.
In July, Chetanya Sharma, Felipe Peixoto and Kate Burcham used their volunteer time off (VTO) to pack meals to be distributed to food-vulnerable school children in the Coventry area. On a second visit, they reorganized the large number of donated supplies, sorted donations, and stacked boxes of food onto new shelving units.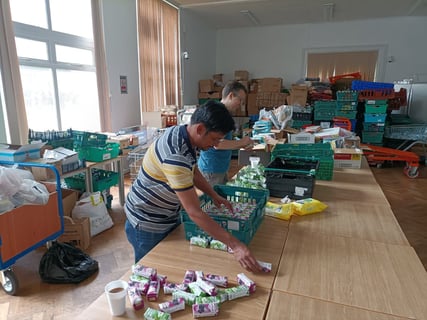 Why is it important for you to give back?
"It is important to help people who are less well off," Christiane says.
Responding to Natural Disasters
Organization Supported: New South Wales State Emergency Service (SES), Sydney, Australia
How do you support this organization?
"I respond to flood and storm emergency situations in Sydney," says Saurabh Khatri, Lead Consultant based in Sydney, Australia. "As part of SES, I help and participate in flood rescue and storm damage operations such as fixing damaged and leaking roofs, tree damage jobs, supporting emergency evacuations order and coordinating community events."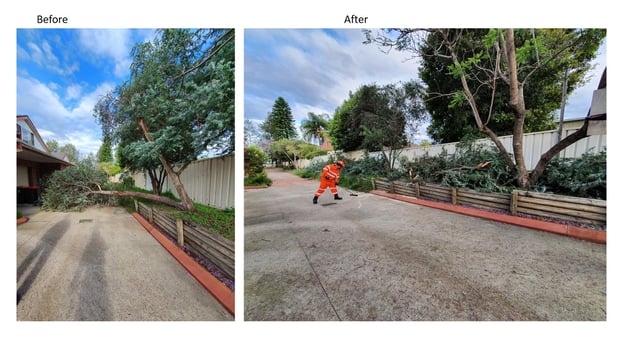 Why is it important for you to give back?
"It gives a sense of commitment and satisfaction to give back to the community where I live. Also, I cherish wearing the orange uniform which is highly recognized and loved by everyone."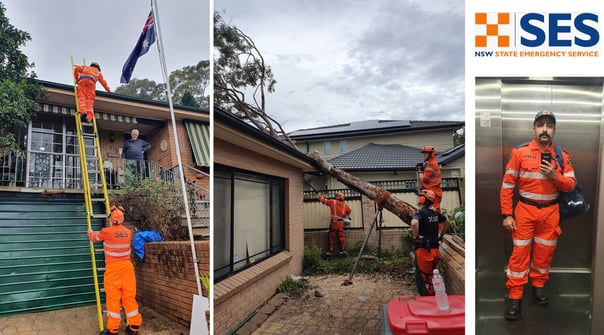 Walking for Charity
Organization Supported: Movement for the Intellectually Disabled of Singapore (MINDS)
How do you support this organization?
"We participate in the 5.7 km journey through historical and green landmarks in Singapore in celebration of Singapore's 57th National Day while raising donations toward the development of Movement for the Intellectually Disabled of Singapore (MINDS) programs and services. It's amazing to see all of us come together for this meaningful cause," Jesintha Rani, HR Generalist, Asia Pacific and Japan.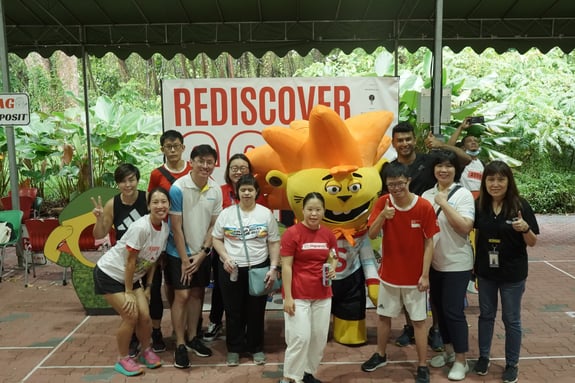 Why is it important for you to give back?
"The health and wellbeing of our employees is of utmost importance to us. We continuously find ways to build a culture of holistic workplace wellbeing including physical and emotional health, social, career, community, and purpose."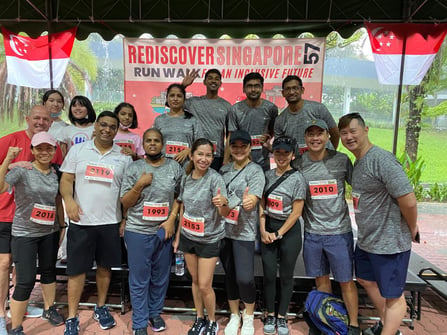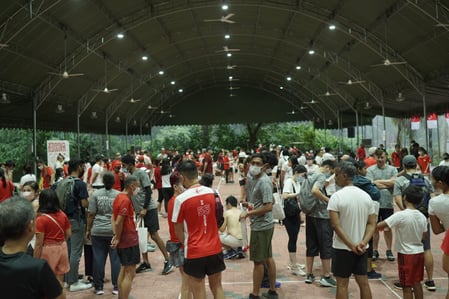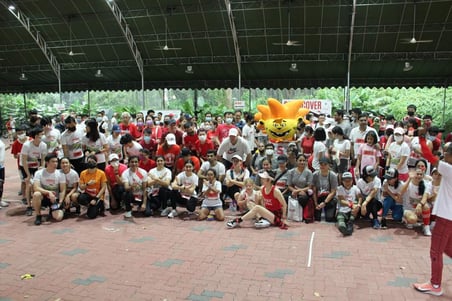 Gardening for Community
Organization Supported: Needham Community Farm, Needham, Massachusetts
How do you support this organization?
Our Synizens in the Boston area spent some time this summer volunteering at the Needham Community Farm. Using their volunteer time off, this team supported a local organization that provides home-grown produce for those with food insecurities.
Why is it important for you to give back?
We encourage all employees to take time to volunteer in their communities. Doing business the SynitiRITE way (with Respect, Integrity, Trust, and Ethics) also means giving back to the community.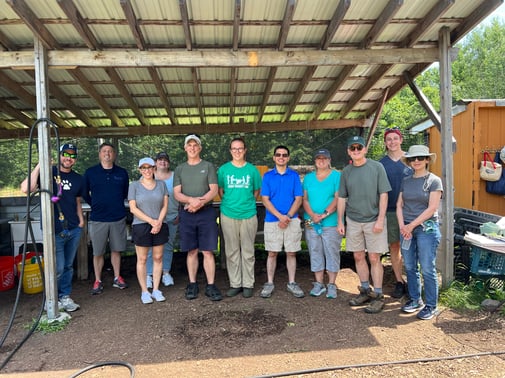 "Thank you to everyone who was able to go. It will make a difference to the families in our community! We are growing more than the company!" – Melanie Payne, Chief Financial Officer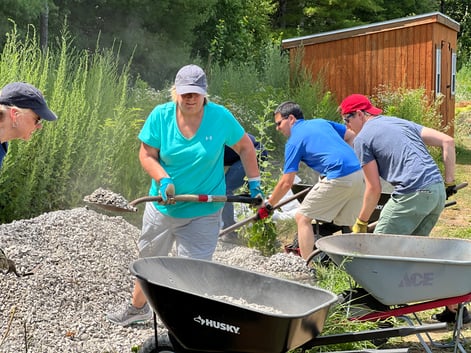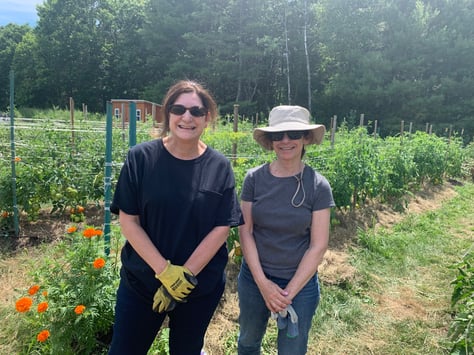 This story captures many, but not all of our dedicated Synizens who use their volunteer time off benefit to help make their communities – and the world – better. In doing so, they truly exemplify the Syniti core value of being Stronger Together!
To learn more about who we are and view open positions, visit Syniti Careers.