Data Migration
Migrating to SAP S/4HANA? A Primer on the Selective Data Transition Approach
Are you unsure how your organization is going to pull off a migration to SAP S/4HANA? Learn more about the various routes for SAP S/4HANA transitions.
---
Once your organization has decided on moving to SAP S/4HANA, the next thought on everyone's mind is, well, 'this is a huge project, how are we going to pull this off'?
There's plenty of advice out there on the potential routes as you dig into that question; however, in this article let's dig deeper into one of these avenues, Selective Data Transition. In this post, written to help provide advice on this topic to business, IT, and transformation program leaders, I'll be covering:
The route continuum for SAP S/4HANA transitions

What Selective Data Transition is and what it offers for organizations

The typical business factors influencing the decision

Recommended next steps to get your project moving in the right direction
The SAP S/4HANA Route Continuum
While many articles following this theme may refer to sculpted routes you can take to S/4HANA, at Syniti we prefer to look at the transition options as a continuum (see image below).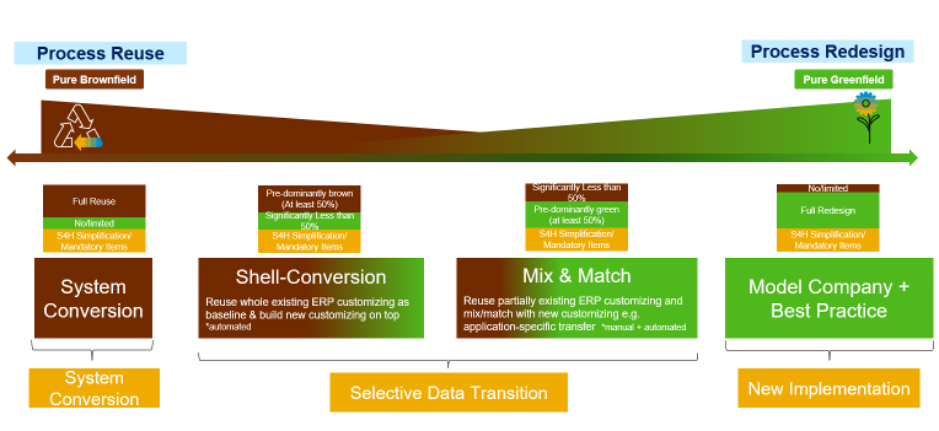 The S/4HANA Route Continuum *Image Courtesy of SAP
On the left side of the continuum we have a System Conversion (also known as a Brownfield project), which is effectively a 'lift and shift' approach. This is a technical transition and means that you're in large part moving all your data and processes 'as is' to SAP S/4HANA. The Brownfield methodology is rather limited in terms of redesign/ transformation and is often fraught with risk as direct upgrades struggle either because of incompatible data structure between ECC and SAP S/4HANA, issues surrounding the refactoring of custom code, and more generally because of insufficient data transformation. If your processes and data are not quite up-to-scratch already, you'll only be moving the same problem to S/4.
On the right side of the diagram, we have New Implementations (Pure Greenfield). Think of this approach as a 'blue sky strategy' or 'blank sheet of paper'. This would be the model for businesses wanting a full-scale overhaul of their processes and data format before moving to SAP S/4HANA. While ideal in terms of an ultimate destination, it's not an approach that appeals to every organization, as to initiate this level of change is too drastic for many in both timeline and cost.
In the middle occupies Selective Data Transition, which in itself can be viewed as a continuum, some more closely aligned with brownfield and some with greenfield depending on business requirements and goals. It's important to know though that none of these approaches are overly pre-defined. At Syniti, we have deep experience helping customers explore, plan for and execute on all these paths, and if we can guarantee anything about an S/4 migration, it's that no project is exactly the same. Every project will inevitably be a blended color of some description.
This is why, when looking the above graphic of the Continuum and that wide range in the middle, you can see why Selective Data Transition (SDT) has become a hot topic and a popular discussion topic for organizations over the last few years.
What is Selective Data Transition (SDT)? A Definition
Selective Data Transition is a term that describes an approach for moving from SAP ECC to SAP S/4HANA that leverages many of the benefits of a System Conversion or a New Implementation without any of the limitations. As an organization, you can choose to selectively re-use parts of your existing ERP solution while redesigning other parts depending on your business priorities. With SDT you can also go-live with S/4HANA in a way that makes sense for your business, including a single go-live, starting with a number of organizational units, or rolling out the solution by country, for example.
As you go through a Selective Data Transition, you're able to select and migrate whatever ABAP repositories, master data, and transactional data you choose to the new S/4 instance and leave obsolete data behind; however, it should be noted that just because you migrate certain data over, does not mean it is fit for purpose or suited for the S/4HANA system, so cleansing, harmonizing and reconstructing any master data you bring over is still required.
Because no two enterprises are the same, SDT offers flexibility. If your preferred approach falls closer to the brownfield side of the continuum, a Shell Conversion in which you keep most of your existing SAP ECC interface/ customizations and data in SAP S/4HANA will make sense, whereas if you are closer to a greenfield, a Mix & Match approach that copies some chosen legacy processes over but reworks others is the way to go.
For a visual summary, here's a side-by-side recap illustrating some of the positives and negatives of SDT versus the two more commonly understood Brown- and Greenfield approaches: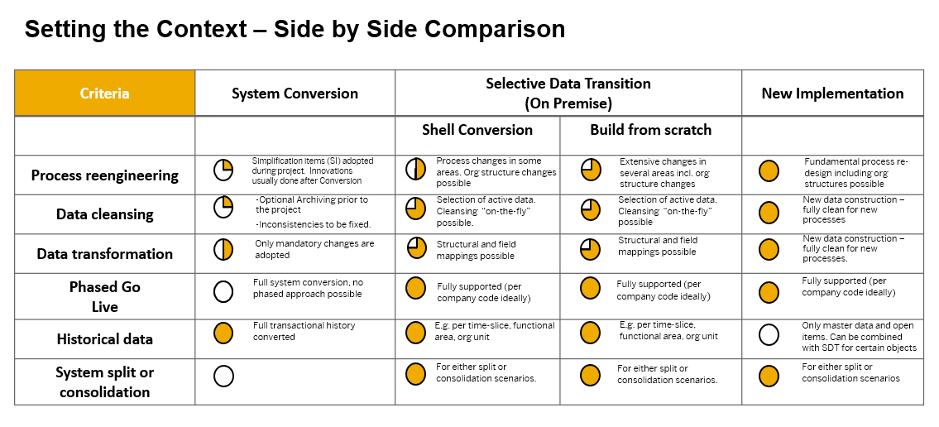 *courtesy of SAP
The business factors that will impact your Selective Data Transition decision
We know the decision on which path to take to SAP S/4HANA is rarely based 100% on logic alone. In many cases political, organizational, and financial factors will inevitably pull your program in a number of directions, but how should you adjust your approach to your business situation? To help navigate this, here are some of the prominent business scenarios the Syniti team consistently comes across and how you could address them in your SAP S/4HANA strategy.
"SAP S/4HANA is needed urgently in the business"
Whether to unlock the benefits of consolidated finance, streamline production, or to increase overall organizational agility, we often hear the promised benefits of SAP S/4HANA are needed as soon as possible. So, how can you adjust when the business is demanding the platform urgently? There's a saying I've heard around the industry: "managers of System Conversions think in weeks, managers of Selective Data Transitions think in months, and managers of New Implementations think in years." That's not to say that any of those respective managers are short-sighted or overly aspirational, it's more than likely that this behavior has been driven by business priorities.
Selective Data Transition is typically the happy medium for organizations wanting to move fast, but also to do it in a way that unlocks value and ensures high data quality. System Conversions may be the fastest way to go, but unless the legacy landscape is very simple, it's unlikely an effective go-live can take place without at least some transforming of data for S/4HANA.
"We can't have any go-live issues / our tolerance for risk is very low"
The primary risk factor in any digital transformation, from our perspective at Syniti, is data. We've been brought into hundreds of situations where the data aspects of a project were under resourced and under budgeted and resulted in failed go-lives and significant business interruption. Whatever approach you take, if you wish to have an uneventful go-live then a proper strategy and solution needs to be in place to manage data quality and orchestrate the data migration. This can be done on some level with all of the approaches, but SDT and New Implementations are the ones that make the most sense if risk is a critical factor in your decision.
"We don't want to move every entity/dept. over to S/4HANA at once"
A staggered approach is quite common across the S/4 projects we see, and would likely lead your program towards the green end of the continuum. With a 'Mix and Match' SDT program or New Implementation you get much greater flexibility and control over staggering the data migration. This would allow you to introduce S/4 in a 'softer' way, ensuring business continuity, and a likely smoother integration of S/4HANA into your organization.
"Our data is a mess/ we can't move until we sort out our data"
Acknowledging this before your project starts, actually buys you some flexibility. While more comprehensive SDT or New Implementation approach might be preferential, there's plenty of pre-move cleansing and harmonisation that can be done to mitigate a 'lift and shift' system conversion. Post go-live governance also ensures a system conversion could land more successfully. In every project, having an approach for how you'll construct data for S/4 and improve data quality, will significantly reduce risk, and deliver more comprehensive value back to the business.
These are just some of the perspectives we see influence SAP S/4HANA transformation programs, but these are far from the only ones. Undertaking a significant system migration such as a move to S/4HANA will elicit opinions and directives from stakeholders across your organization. Understanding their diverse perspectives and channelling them productively into the program approach will be arguably one of the biggest hurdles for any Business/ IT/ Transformation Program leader to overcome.
Is Selective Data Transition Right for Your Enterprise?
Hopefully, you've found the insight useful in this blog, but as with any new deluge of information sometimes it can make the decision that bit murkier. At Syniti, we believe the logical first step is to perform a comprehensive and rapid assessment to determine the best path forward for your business, including detailed insights into:
SAP landscape

Data landscape

Data quality status

Custom code landscape

P&L Improvement Opportunities
Armed with this knowledge, in just a few weeks you will have insights into a recommended deployment approach, project and budget estimates, a risk mitigation analysis and an on-going data operations plan.
So is Selective Data Transition right for you and your organization? Well, the answer is, it depends. SDT offers a happy trade-off between timeline and cost on one end, and risk and data quality on the other, but it isn't right for every business' circumstances.
To book a data-focused consultation around your S/4HANA migration program, get in touch with us here. To learn more about Syniti Data Transition, visit our webpage here.