Data Strategy
Trusting the Data: What We Can Learn from Spotify Wrapped
Without data governance, data quality, and some pretty in-depth data analytics, Spotify Wrapped wouldn't exist. What can we learn from Spotify?
---
Every year around the first week of December,
Spotify Wrapped
becomes a trending topic. I'm sure you've seen it. Whether you're on Instagram, TikTok, Twitter, or any other social media platform, you're bound to run into someone sharing their Spotify Wrapped - some with pride, some with immense regret, and some with just downright confusion.
Whether you hit all the trends this year and your Wrapped included the likes of Olivia Rodrigo and Taylor Swift or you stuck with the classics like Springsteen, Elvis, or Johnny Cash, when it comes down to it, you trust that the data Spotify has collected on you throughout the year is accurate. A company like Spotify can't publish and promote something as much as they do with Spotify Wrapped without having 100% confidence that the data they collect each and every day is accurate.
So it leads me to wonder, do you believe in your data as much as Spotify believes in theirs?
After pondering that question, it inspired me to sit down with our resident product genius (and Pandora user) Tyler Warden to unwrap some learnings behind the data of Wrapped.
What data initiatives are most important for a company to pull off data excellence like this on such a large scale?
I think the type of initiatives are less important than ensuring the initiatives are targeted to real meaningful business outcomes. If an organization wants to put data excellence at the level Spotify does, the initiatives should be centered around great KPIs that can be used to measure the impact of data on the business, and it's important to be open and transparent on their data initiatives to move those KPIs in the right direction.
If a company is looking to replicate the personalized data experience of Spotify Wrapped but isn't currently confident in their data, where should they start on their data journey?
A personalized data experience for customers starts with the customers themselves so I would recommend starting with identifying what a personalized experience looks like to your business and establish some metrics around that experience. From there, working through the data assets that contribute to those metrics in an iterative process of understand, examine, and trust. Understand the data elements, what they mean, who owns them, and their lifecycle. Examine the data itself to assess fit for purpose. Improve the fit and understanding to bring the data to a state of trust.
Data excellence and 100% confidence in your data is a requirement for a company like Spotify to pull this off. Is it possible for an organization to reach this level of trust in their data?
Yes, it is possible especially when considering the reality that not all data rises to the same level of necessary excellence. The key is matching the level of excellence needed to the desired outcome. Confidence does not necessarily mean everything is perfect, instead, it means that the processes you need to execute, the decisions you make, and the outcomes you want to drive can be achieved within realistic and risk-appropriate levels.
Even though you didn't receive a Spotify Wrapped this year, can you share what you're currently listening to?
I am currently listening to the Children of Eden soundtrack which has my all-time favorite Broadway tenor solo in Lost in the Wilderness.
With those great insights from Tyler, we thought it might be fun to share a look at some of our own Synizens' Spotify Wrapped.
Erin Grohs, Marketing: Got her drivers license 2 decades ago, but the angsty teen anthem still made it to her number 1 song in 2021
Kevin Campbell, CEO: Blames his family for taking over his top songs for 2021. Shared his personal favorite artist, Luke Combs
Lori Drennen, Delivery Center Office Manager: Shares a special playlist with her family that reflects in her Wrapped

Deanna Meiresonne, Marketing: Proved she knows more about what's going on in the world than the rest of us with her impressive top podcast lineup
Dylan Wilbanks, Product Design Manager: Listened to more music than 83% of other listeners in the United States. More than 514 hours of listening. That's 21+ days of listening. Impressive work.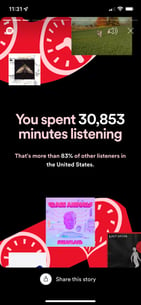 Alyssa Sliney, Senior Delivery Partner: Proves that diversity in music tastes is the key to a great audio aura.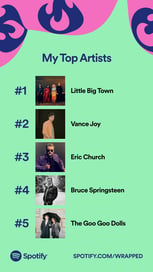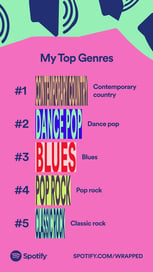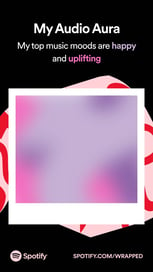 Without data governance, data quality, and some pretty in-depth data analytics, Spotify Wrapped wouldn't exist. Sure, we have to listen to the music to give them the data to create our end-of-year music reviews, but without data management and high-quality data, we wouldn't receive the sophisticated level of personalization and user experience from Spotify that we're lucky enough to receive each year.
Companies are continuously innovating their data sets to improve their business and Spotify is no different. Ultimately, Spotify Wrapped is a data project with billions of data points collected throughout the year in order to heighten personalization as well as cross-user sharing and engagement. Projects like these require continuous data excellence. After all, data is the world's most valuable asset, and trusted data turns ideas into iconic enterprises.